When COVID-19 struck, Lancaster Lebanon Habitat for Humanity had to make quick, and in many instances difficult, decisions about how to maintain services and launch new programs with strained resources and new restrictions in place. The organization's belief that affordable housing plays a critical role in strong and stable communities was put to the test during the pandemic; ultimately, however, this nonprofit proved that when homeowners have a foundation of affordable housing and supportive community resources, they can persevere through crises.
With a full pipeline of construction projects, the purchase of a new property in the works, and having recently hired another construction building supervisor, the Pennsylvania affiliate of the international organization looked to its original mission when deciding how to move forward as a global pandemic and economic crisis unfolded around them. Considering its mandate to "bring people together to build homes, communities and hope" and advance "strength, stability and self-reliance through shelter," Lancaster Lebanon Habitat employed a 'back-to-the-basics' approach, pivoting its services to meet the needs of the community, even when it meant delaying revenue-generating construction projects and closing ReStore – their home improvement and donation center that sells new and gently used furniture, appliances and building materials. This mission-oriented approach paid dividends for the community, helping prospective homebuyers navigate construction delays, preserving struggling households' homeownership through strategic forbearance programs and providing food to essential workers, individuals with COVID-19 and anyone else in need.
The Habitat for Humanity affiliate has been serving residents of Lancaster County and Lebanon County for more than 30 years, helping over 300 families. Their homeownership program invites eligible households earning 40% to 80% of the area median income to contribute sweat equity hours, alongside other volunteers and Habitat for Humanity staff, to construct or renovate an affordable home. The program includes personal finance education to ensure that once a completed home is sold, that household has the information and tools necessary to maintain their mortgage.
The National Housing Conference spoke to Executive Director Andrew Szalay and Community Outreach Manager Allyson Wells to discuss how the organization responded to challenges during COVID-19 in real-time and how the experiences over the past six months have strengthened its commitment to providing Pennsylvanians a decent and stable place to live.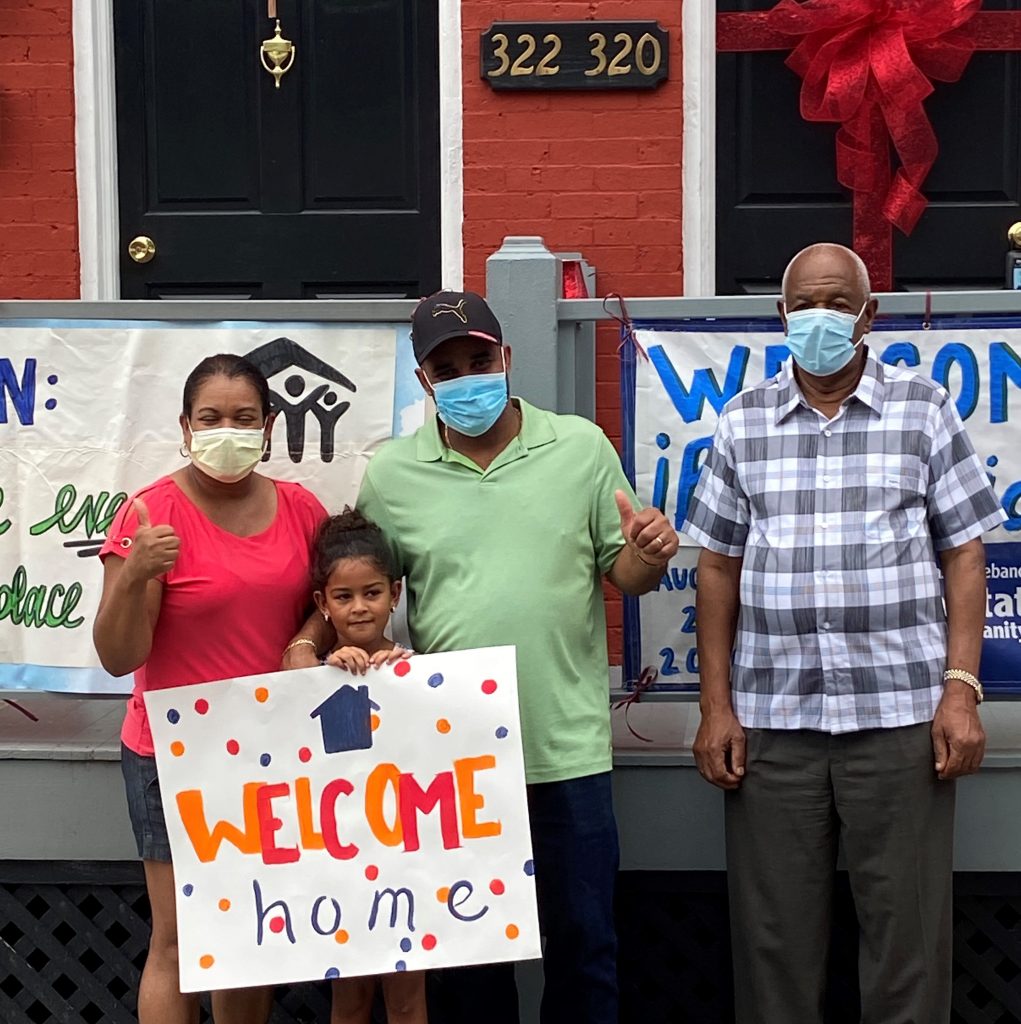 How were the communities of Lancaster and Lebanon affected by COVID-19?
Lancaster Lebanon Habitat serves a diverse community, spanning rural, agricultural areas, Amish country and the cities of Lancaster and Lebanon, among the most densely populated communities in Pennsylvania. Much of the local workforce is employed by large, local manufacturers. Many households in Lancaster and Lebanon were fortunate to remain employed throughout the pandemic, as businesses such as agriculture product and medical care were deemed essential services.
Lancaster's demographic makeup is particularly diverse, because the area is a resettlement site of international refugees thanks to nonprofit Church World Service. Many first generation Cubans, Haitians, Congolese and Ethiopians have come to call the Pennsylvania city home, resulting in a truly unique group of participants in our homeownership program. The 12 homebuyers currently enrolled in the program represent nine different countries. To ensure our organization's ongoing ability to support households from around the globe and bridge language barriers, they've hired translators to work with homebuyers and volunteers.
How was the construction pipeline impacted and how did that affect homebuyers in the homeownership program?
All of the construction projects we had in the pipeline, including the construction of five new homes, came to a complete halt in late March. Remembering our mission statement and core values which directed us to protect the safety of the community, we were cautious about restarting construction and waited until the state entered the green phase of reopening on July 3 before returning to job sites. Despite our desire to get eager homebuyers into their homes and resume revenue-generating work, we chose to proceed carefully and slowly to ensure the safety of volunteers and prevent the spread of COVID-19.
Construction began with two professional supervisors who worked independently at the building sites. Before we finally welcomed volunteers back to construction, we examined COVID-19-related guidance from the Occupational Safety and Health Administration, the Centers for Disease Control and Prevention and the Pennsylvania Department of Health to produce our own guidance unique to our construction sites and retail store.
In addition to prolonged construction and delayed move-in timelines, we pledged to help homebuyers through unexpected financing and qualification issues; we stressed that current COVID-related issues would not prevent them from becoming homeowners in the future.
What was Lancaster Lebanon Habitat's outreach strategy during the crisis?
When figuring out how to connect with previous homebuyers – some of whom had very limited contact information available – we decided to mail letters. Our first round of correspondence went out on March 17, before the state had even issued a stay-at-home order, followed by another round in April. The letters explained that despite the uncertainty that lay ahead, Lancaster Lebanon Habitat was available as a resource for whatever homeowners might need. Several of the recipients who received letters followed up with a phone call to inquire about loss mitigation options and were eventually placed in a forbearance plan.
Concerned that we were still not reaching the entire community, we expanded our outreach strategy to include getting out into neighborhoods and speaking to residents in person. Staff visited with community members and asked how they could be of service during the pandemic. When some households expressed a need for food, we mobilized a food drop-off program. The program quickly grew to more than two dozen food box drop-offs a week and served a diverse group of individuals, including homeowners that contracted COVID-19 and were quarantined at home, essential workers that took on longer hours at work and couldn't find the time to get to the grocery store and households managing strained finances.
Throughout our communication, Lancaster Lebanon Habitat's message was clear and consistent: the door is always open for help. And as a result, we were able to strengthen existing relationships and forge new bonds in the community.
How did Lancaster Lebanon Habitat address the needs of existing homeowners?
At the height of the crisis, seven homeowners in our program lost their jobs or experienced reduced incomes that impacted their ability to pay their mortgage. We developed two forbearance programs to support these homeowners, both of which waive late fees and pause negative reporting to credit bureaus to limit the financial damage incurred by homeowners. We looked for common themes across the forbearance plans implemented by Fannie Mae, Freddie Mac and the Federal Housing Administration, and consulted with Fulton Mortgage to create the first forbearance option, which allows homeowners to delay mortgage payments for up to one year on a three-month renewal basis.
While the majority of the forbearance programs available today allow mortgage holders to forgo the principal and interest component of their mortgage payments for a specified period of time, homeowners are still responsible for taxes and hazard insurance – typically covered by the escrow account. Over time, the risk of the escrow account drawing more debt risks nonpayment of taxes and insurance and increases the likelihood of uncovered damages and foreclosure actions by the taxing entity.
If a homeowner's mortgage has an escrow account, property taxes and insurance should continue to be paid during forbearance, but that isn't the case for all mortgages. The Consumer Financial Protection Bureau has urged homeowners to confirm escrow payments with their servicer and organizations like the Credit Union National Association have called on the Federal Housing Finance Agency to clarify the treatment of escrow for mortgages backed by Fannie Mae and Freddie Mac.
For private and nonprofit lenders serving low-income homeowners, capital – which is required to advance mortgage and escrow payments – is scarce. Recognizing the risk of mounting tax debt, particularly for low-income homeowners, we designed a second forbearance program to cover taxes and insurance payments while homeowners were not making mortgage payments or in instances where homeowners owned their home outright. We funded the program with a $12,000 grant from the United Way of Lancaster County and the Lancaster County Community Foundation to cover escrow payments and hazard insurance on a homeowner's behalf and ensure they do not fall into further debt, which could threaten their long-term investment as homeowners.
How has COVID-19 impacted donors and contributions?
Remaining in close communication with donors was essential to managing funding and gauging when additional support would be needed throughout the first couple of months of COVID-19. In the absence of revenue from ReStore or home sales, we went into overdrive to keep donors abreast of the challenges facing homebuyers and homeowners through newsletters, Facebook Live events and even a virtual town hall. Sharing personal stories and connecting donations to tangible outcomes, like helping a family get into secure housing during the pandemic, helped keep donors engaged.
We also sought out new sources of funding to maintain services, ranging from personal donations from staff to partnerships with other nonprofit and for-profit organizations, such as the United Way, Tabor Community Services and Community Asset Partners. CARES Act programs, including funding from the Paycheck Protection Program and a Small Business Administration loan, also provided invaluable financial support to help us bridge operating expenses.
Has COVID-19 altered the organization's plans for 2021?
After a tumultuous six months, Lancaster Lebanon Habitat is on track for what will hopefully be a more normal year in 2021. Although construction timelines were delayed by three months, which set operational timelines back by about six months, we are slowly returning to normal. ReStore is back open and all furloughed staff have returned to work. In many ways, COVID-19 has strengthened the staff's competency across program areas, improved partnerships throughout the community and reinvigorated Lancaster Lebanon Habitat's enthusiasm for serving people.
What can political leaders do to better support nonprofits during COVID-19?
While policymakers and lawmakers at every level of government have done an incredible job deploying emergency funding and creating new programs over a short period of time, it's important that they understand and consider the unique needs of nonprofits and how they differ from traditional businesses. A one-size-fits-all approach can often create undue barriers for nonprofits, like Lancaster Lebanon Habitat, hoping to participate in COVID-19-related programs. Program criteria such as no years with reported losses are appropriate in for-profit eligibility but may be unrealistic for nonprofit organizations that devote the vast majority of their resources to impact rather than margin. By simply maintaining a regular dialogue with local nonprofits, policymakers and lawmakers can gain a better idea of how to ensure these essential community organizations can benefit from all of the emergency support measures implemented during the pandemic.