Since the outbreak of the COVID-19 pandemic, more than 4 million homeowners have been placed into forbearance plans – either through private-sector lenders or through the CARES Act forbearance program available to homeowners with federally-backed mortgages. Navigating the process, which begins when a homeowner is faced with the first mortgage payment they cannot make, can be incredibly stressful and confusing. That's where Affordable Housing Resources (AHR) comes in.
Nashville, Tennessee's oldest nonprofit housing organization, AHR, has been laying a foundation for successful homeownership for 40 Middle Tennessee counties for more than three decades. Drawing on the organization's experience with the National Foreclosure Mitigation Counseling (NMFC) Grant mandated by Congress in the wake of the 2008 financial crisis, AHR has outlined a new COVID-19 program to take homeowners through the entire forbearance process, including communicating with their mortgage servicer, gathering the necessary documentation and understanding what happens next.
While there is already a strong need for forbearance programs, the demand is likely to surge in the coming months as long-term unemployment and recessionary economic conditions wear on household finances. As the housing sector attempts to manage millions of forbearances and avoid millions of foreclosures, nonprofits, homeowners and policymakers will need to work together, leaning into partnerships like those facilitated by programs like AHR's.
The National Housing Conference spoke to AHR CEO Eddie Latimer about how the organization, on the heels of the devastating tornado outbreak in March, quickly mobilized its COVID-19 Mortgage Forbearance Program to address some of the common challenges faced by homeowners and mortgage servicers during the loss mitigation process.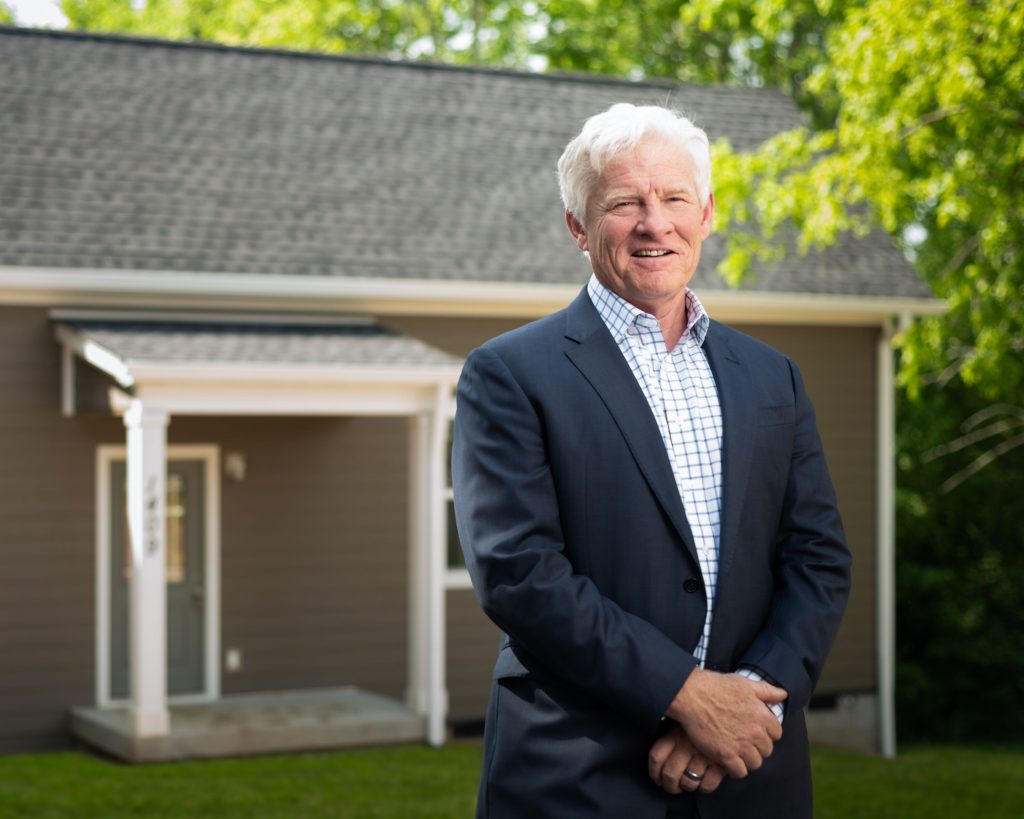 What kind of foreclosure prevention support has AHR historically provided and how has that changed in recent months?
AHR provides foreclosure prevention services to help homeowners facing crisis situations remain in their homes. Our organization has helped more than 4,000 low-income homeowners preserve their homeownership. When Tennessee was hit with the EF4 tornadoes in early March, we at AHR mobilized our homeowner support to help struggling families and individuals connect with their mortgage servicers and other housing and disaster resources. Just a few weeks later, the COVID-19 pandemic swept the country. Tennessee's stay-at-home orders began in early April and since then the unemployment rate in the state has remained above 10%.
Successful homeowners are now being challenged to preserve their homes in this environment. Workforce homeowners are at a higher risk of foreclosure, as they are less able to afford common forbearance workout plans, such as short-term repayment plans, that may be offered by mortgage servicers. To respond to the surge in demand for homeowner support across all populations and foreclosure prevention, we established our COVID-19 Mortgage Forbearance Program, which provides free assistance to homeowners struggling to make their monthly mortgage payment because of recently-incurred financial hardship. The alternatives for Tennesseans are to hire an attorney, who typically charge around $2,000 to perform the work we offer for free, or to go through the process alone. Although the CARES Act requires mortgage servicers to offer a 180-day forbearance with the option for a 180-day extension, the process remains ambiguous and subjective with inconsistent results. Homeowners who negotiate on their own may be responsible for paying back deferred payments in one lump sum, putting them in a worse financial situation than they started in. Our program launched to help low- to moderate-income and rural homeowners across the state of Tennessee stay in their homes and avoid costly errors by serving as a partner throughout the entire process.
How does the COVID-19 Mortgage Forbearance Program work?
AHR has developed a model that places a trained nonprofit representative in the middle of the forbearance process, working as a liaison between the mortgage servicer and the homeowner. Building off our experience during the last foreclosure crisis working with distressed homeowners through NFMC, our staff understands that having a knowledgeable advocate and coordinator can mean the difference between a homeowner remaining in their home and foreclosure.
The program is designed to ensure that homeowners achieve the best outcomes from the forbearance process and avoid expensive fines, damage to their credit and, most importantly, foreclosure. Beginning with the initial request for forbearance and covering all the way through to the final workout option, our five-step program is designed to support homeowners through key milestones in the forbearance process. The program is designed to be applied by qualified housing nonprofits, including AHR.
Does AHR plan to expand the program?
Our program is just beginning to ramp up now. Although the organization has not yet seen a high volume of calls, it expects demand to ramp up significantly, particularly after Aug. 31, 2020, due in part to the expiration of foreclosure moratoriums, but also to the bottleneck created by homeowners and mortgage servicers that have not been able to come to a workable resolution during the time that has elapsed.
To support an anticipated increase in demand, we have lined up a team of five staff members experienced in mortgage servicing and foreclosure prevention through NMFC. We hope to expand the program's adoption across other housing nonprofits that serve Tennesseans.
We are currently working on a proposal for the state of Tennessee to commit $10 million in near-term funding to support a select group of housing nonprofits to implement the program. These nonprofits, under our supervision, would continue to provide services free of charge to homeowners, while charging a fee for work performed to the state. The proposal, which has minimal financial risk for the state, would amplify nonprofits' ability to help homeowners avoid unnecessary foreclosures and the ripple effects such actions have on households and communities in the years that follow.
How can interested homeowners get connected with AHR?
Many of the first homeowners we have worked with as part of the COVID-19 Mortgage Forbearance Program were homeowners impacted by the March tornados or distressed households that have been referred to the organization by friends and family.
We have set up a new page on our website dedicated to helping Tennessee homeowners impacted by COVID-19. The site refers homeowners to our contacts for housing counseling and provides contact information for who to get in touch with to enroll in the COVID-19 Mortgage Forbearance Program. We have also shared the program details on our social media accounts, including Facebook and Twitter.
What are some of the common pain points for homeowners during the forbearance process and how is AHR addressing those?
The forbearance process – even without the addition of a global pandemic and economic crisis – is complex, time-consuming and confusing. Many of the homeowners we work with have little to no knowledge of the nuances of mortgage servicing and are, understandably, anxious about speaking to financial services professionals about their inability to pay their mortgage payments. AHR handles this process on the homeowner's behalf and is able to translate the different steps and requirements into layman's terms, allowing homeowners to make sustainable financial decisions with confidence.
Many of the homeowners we have worked with do not have the time to sit on the phone on hold waiting to speak to someone in a servicing call center in the middle of a workday. Some of the homeowners who have participated in our COVID-19 Mortgage Forbearance Program have spent as many as three hours on hold trying to get through to a servicing representative. Most low- to moderate-income workers, who are already facing financial hardship, don't have this sort of time to spare during normal working hours.
Even once they get through to someone, homeowners may be transferred to different staff and multiple departments, may have to repeat questions or even have their calls dropped. Our program avoids these pitfalls by connecting directly with the relevant staff and having all of the necessary information prepared ahead of time.
Following the initial 180-day forbearance, the loss mitigation process can get quite complicated, involving detailed documentation and information that many homeowners may have difficulty obtaining. We help homeowners collect the necessary documentation and then submits those documents to the mortgage servicer and follows-up accordingly.
Are there any common problems mortgage servicers are experiencing?
Overnight, mortgage servicers have been tasked with supporting millions of distressed homeowners, whose finances and employment have changed dramatically and suddenly. The volume of calls mortgage servicers are receiving right now is almost unmanageable. In this kind of environment it's easy for mistakes to be made and homeowners to fall between the cracks. The process can be frustrating for mortgage servicers and homeowners alike, which doesn't serve any party's benefit. AHR and other housing nonprofits can play a key role in alleviating some of the stress by doing the leg work to help both sides of the process achieve positive outcomes.
What advice or insight would be beneficial for mortgage servicers or policymakers to hear about how the forbearance process is going on the ground?
This is only the beginning of what is going to be a long period of loss mitigation. Most of the homeowners we have worked with so far are just now finishing up the initial 90-day forbearance period and that's when the real work begins. We expect the intensity of work and the volume of homeowners to increase as more households grapple with the effects of long-term unemployment and an economy in recession. The work ahead is going to require a coordinated effort from mortgage servicers, nonprofits, homeowners, political leaders, policymakers and community organizations. Everybody involved in the system is going to have to work together; it is in everyone's best interest. It's a good time to reflect on the lessons learned from the foreclosure crisis that followed the 2008 recession and its impact not only on individual households, but on banks left with vacant, deteriorating assets and communities stricken with widespread blight.