As one of the nation's largest affordable housing organizations, Mercy Housing is a leader in the development, preservation, management and financing of service enriched, affordable housing for low income households across the country.
Mercy Housing's commitment to service enriched housing stems from their belief that people need more than just a place to live to have a stable life. As a result, they have built a strong resident services platform to provide a wide array of programming for residents to help improve their health, wellness and financial stability.
At the start of the COVID-19 pandemic, Mercy Housing quickly leveraged its resident services platform to provide critically needed assistance specific to the needs of the residents in their properties across the country.
We chatted with Laura Andes and Kate Peterson, Mercy Housing's senior vice presidents of national resident services and communications to discuss some of their best practices and lessons they have learned during the pandemic. The following is our conversation edited for brevity.
How did having an existing resident service platform help you respond quickly to the pandemic?
Immediately, we began a program where our resident service staff called residents on a daily basis. Having an existing platform meant that our staff had existing relationships with the residents prior to the pandemic. That mattered a lot because people were more likely to pick up the phone and more likely to open up and talk about what was going on in their lives. These conversations allowed us to develop a better understanding of emerging needs so that we could respond more quickly to the immediate and sometimes unique needs of each property. It was also hugely important for many of the senior residents to remain connected during this period of social isolation.
What were some of those immediate needs and how were you able to respond?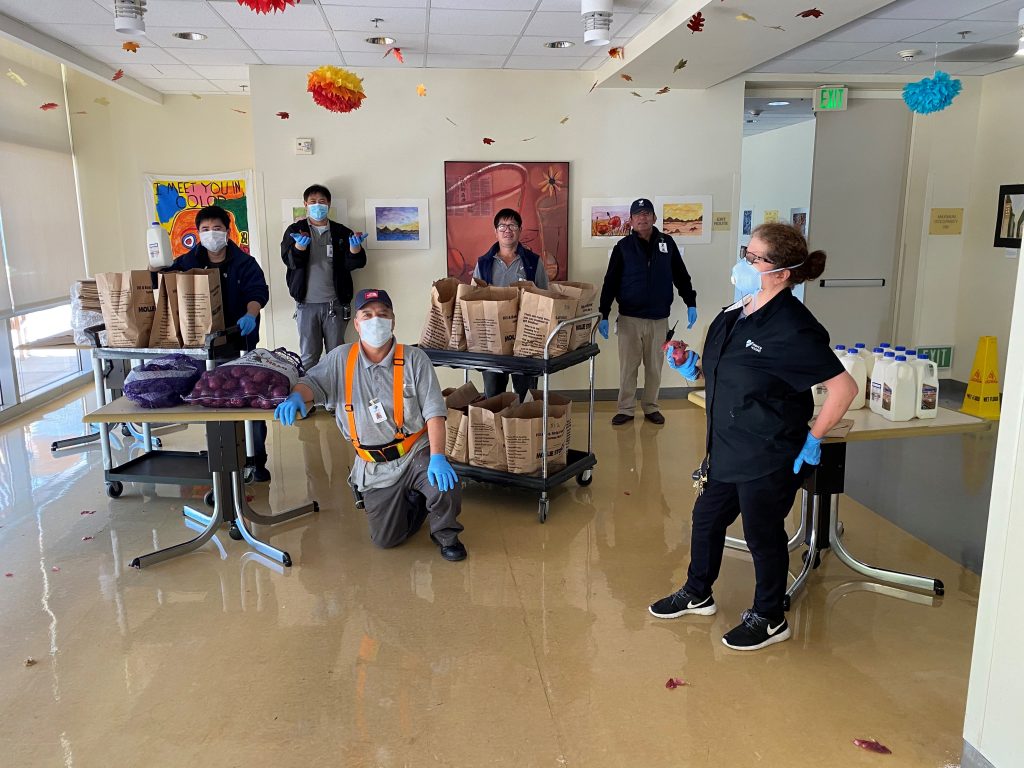 Because we have so many properties in California and Washington, we began to adjust programming in late February to early March. We immediately stopped all in-person programs, closed down community rooms and began our phone outreach program where we quickly learned that the most immediate need was food insecurity. Because we could quantify this need so quickly, we were able to receive emergency funding from private donors and foundations to buy more food. In Seattle, we worked with local restaurants to purchase their unused food and later scaled up this initiative through a partnership with Bank of America. Additionally, our relationship with Microsoft led to them donating meals that would have normally been prepared [in] their cafeteria to us.
Read more about how partner organizations are helping Mercy Housing fund their food insecurity efforts here.
As you continue to stay in touch with residents, how have you been able to adjust your services to support their needs?
Once layoffs started occurring, it became clear to us from our phone calls that residents were going to need help obtaining unemployment insurance, stimulus payments and extended SNAP benefits. We were able to get our resident service staff members the training they needed to help residents access those benefits as quickly as possible.
Has the pandemic highlighted any areas that you would like to focus more on going forward?
Accessing digital technology has been a huge challenge. We have computer centers at many of our properties for residents to access the internet. When we shut those down, many of them lost their ability to go on-line. The digital divide has had an impact on all residents, especially school-age children who have now transitioned to remote learning. We are working to identify which children need computer and Wi-Fi access so that they are able to keep up with their schoolwork.
Read more about how Mercy Housing is enabling digital access for their residents.
How have your partnerships elevated your work?
Having an existing resident service platform meant that we had already built many community and business partnerships in the towns and cities we operate in. It was pretty remarkable when the pandemic broke out that those partners said, "how can we help?" before we said, "can you help us?"
How have your staff and residents adapted to changes?
The creativity and innovation of our staff has been incredible. In one senior property, our staff organized "hallway bingo" games where residents sit in their doorways and play. Some are doing balcony singalongs. Our Out-of-School Time ("OST") program has an Instagram feed and they're putting daily recorded videos on their Instagram feed for their kiddos to do. We are now seeing residents who never showed up to programming before participating, allowing us to develop relationships that maybe wouldn't have been formed prior to the pandemic. We take that engagement in our programs as one more sign that the work we are doing is making a difference.
Three takeaways and a challenge
Having an existing resident service platform across their properties is helping Mercy Housing respond more quickly to the needs of their residents during the COVID-19 pandemic. Specifically, this has allowed them:
Leverage the trust they established between staff and residents prior to the pandemic to engage more deeply with their residents.
Building off their existing relationships with community service providers to help provide funding and services needed at the properties.
Utilize data collection to make it easier for them to assess, track and quantify the need for services and grant funding.
One of the biggest challenges Mercy has faced is providing digital access for residents.
In addition to being an NHC member, Mercy Housing is also a member of the Stewards of Affordable Housing for the Future (SAHF) and has worked with other SAHF members to build a certification program for resident service providers. For more information about building a resident service platform, visit the CORES website.
If you'd like to learn more about Mercy Housing Resident Services, click here. You can also listen to Cinnaire's podcast interview with Mercy Housing on how they are responding to COVID-19 here.