San Francisco's Chinatown is a community like no other, and when the pandemic hit, its leaders confronted a highly specific set of challenges, from overcrowded housing to escalating cost. But the community also has a unique set of advantages, including its community associations, its walkability, and the plethora of businesses that form its social and economic backbone. One of the organizations responding to these challenges and leveraging these advantages is Chinatown Community Development Center (CCDC), a community advocacy organization centered in the neighborhood with operations across San Francisco.
At the beginning of the pandemic, CCDC created a unique program to combat food insecurity in Chinatown's most crowded housing, a program that it recently revived to combat the effects of the pandemic's second wave. CCDC has also spearheaded programs to decrease social isolation among its residents, ensure equitable distribution of resources across the city, and foster neighborhood pride during the pandemic.
The National Housing Conference spoke with CCDC Executive Director Malcolm Yeung on how his organization has responded to Chinatown's needs during COVID-19 and why organizations that center community solidarity are more important than ever during a health crisis.
CCDC serves a unique neighborhood and community. Can you describe San Francisco's Chinatown?
San Francisco's Chinatown is a one quarter-square mile neighborhood with approximately 18,000 residents, making it the second most densely populated neighborhood in the United States, after Manhattan's Chinatown. About a third of residents live below the poverty line, and close to 90% of adults are monolingual Chinese speakers.
People often think of Chinatown as nothing more than a tourist trap, but it serves a vital social role for its residents and the city more broadly. Both historically and presently, Chinatown is an immigrant gateway where those who have recently arrived from China can come and find affordable housing, starter jobs, cultural and faith-based associations, and begin to form their social and economic networks and achieve upward mobility. The core of CCDC's mission is to protect Chinatown's status as a launching pad for these immigrants, so that it continues to be a resource that future immigrants can use in the same way as their predecessors.
About half of Chinatown's housing stock consists of single-room occupancy hotels (SROs), dormitory-style buildings in which residents share a single bathroom and kitchen per floor. Originally intended as housing for seasonal railroad and agricultural workers, since 1965 SROs typically served as housing for Chinatown's most recent arrivals while they found work and built up enough in savings to find permanent housing in and around San Francisco. SRO residents typically found work in one of Chinatown's many restaurants, or as janitors or laborers in nearby downtown San Francisco. But declining economic mobility combined with skyrocketing housing costs in the San Francisco Bay Area meant that an increasing portion of SRO renters are families with children sharing units that are little bigger than a walk-in closet.
The other main source of housing in the neighborhood are the Pings, a four-building public housing complex that has traditionally served as the neighborhood's family housing. However, the same forces that have changed the makeup of SROs have also impacted the Pings: residents now skew older, as those who received subsidized apartments years ago and now see few options available to people at their income in San Francisco have been reluctant to give them up as they age. Young families are thus often crowded out, another reason they have been increasingly turning to SROs for housing.
How does CCDC fit into the neighborhood?
CCDC is a 44-year-old organization whose mission is to build community to improve quality of life in and around Chinatown. The community-building we engage in takes two main forms. The first is housing. We recognize that housing is the foundation of any community, so much of our activity is focused on acquiring, building, and rehabbing housing, and making sure at every step of the process that housing meets the needs of the community rather than imposing a certain standard on it. That element of our organization's work is citywide: we operate about 3,500 affordable units across San Francisco, only about 30% of which are in Chinatown.
The second component is building the people capacity of the community, which encompasses activities like tenant organizing and advocacy for community resources like parks, as well as programs to build leadership skills among Chinatown's young people. Whatever our work on this front entails, the goal is to always build a sense of pride and ownership of the community in its residents, and to preserve the neighborhood ecosystem that generations of advocates have fought to protect for over a century.
How was Chinatown affected by the pandemic?
Chinatowns and other Asian American neighborhoods across the country felt the economic impacts of the pandemic before any other set of communities, due to President Trump's racist characterization of COVID-19 as the "Chinese virus." San Francisco's Chinatown had the feeling of a ghost town starting in late January of last year, and attendance at the Lunar New Year's Parade in February was 30% of what was typical. California's shelter in place order was not imposed until mid-March.
After the order was imposed, Chinatown was not identified as a hot spot neighborhood by the city, and so the city neglected to build up much testing capacity in the neighborhood. We at CCDC found this frustrating, because authorities then used the low case counts in the neighborhood as evidence that additional testing capacity wasn't needed, neglecting the fact that numbers might have been low precisely because of the lack of testing capacity. This lack of testing made it difficult to tell how infection rates differed in Chinatown relative to the city as a whole, even as Asian and Pacific Islander Americans made up a disproportionate share of the city's total COVID-19 cases.
What is sure, however, is that Chinatown residents adopted widespread mask-wearing quite early, even before authorities made it mandatory, which helped significantly lower community spread. However, even though the disease itself could have been worse in Chinatown and the other neighborhoods CCDC serves, the economic effects of the disease were quite dire. Business closure and unemployment was widespread, and in addition there were the adverse social effects of isolation that every community experienced during those first few months.
What was CCDC's main concern at the beginning of the pandemic?
Our singular concern at the beginning of the pandemic was the potential for uncontrolled COVID-19 spread in SROs. SRO residents live in very close proximity to each other and share facilities like kitchens and bathrooms, but before COVID-19, most residents spent a majority of their time in their units, at work and at school. However, after schools closed and unemployment spiked – according to CCDC data, 77% of SRO residents lost their jobs in the first few months of the pandemic and almost 100% experienced some reduction in hours – residents began spending almost all of their time in their units, so SRO population density actually increased.
On top of the simple increase in density, there was also an increase in facility use, most worryingly of kitchens. Before the pandemic, kitchen usage was actually rather limited in SROs, since many residents ate outside their units at work, school or in restaurants. But when those places shut down, kitchen use increased dramatically. Additionally, residents experiencing financial hardship began relying more heavily on food assistance programs, which are used primarily for groceries and cannot be used for hot meals, putting further pressure on kitchens as residents had no choice but to rely on unprepared food. Informal norms around kitchen use began to break down, and there were concerns about residents congregating in kitchens at mealtimes, exactly the sort of activity that would cause the virus to spread rapidly. Because of all of this, we decided that it was extremely important to find ways to get SRO residents out of kitchens, which meant that we needed to find an alternative way to get meals to them.
How did CCDC respond to that concern about SRO residents' kitchen use?
At the same time as SRO residents were undergoing turmoil related to kitchen use, Chinatown's businesses were being hammered by the pandemic as well. Of the more than 150 restaurants in the neighborhood, only 40 remained open a month after shutdown was declared. Restaurants are important economically, of course, but they also serve vital roles as community institutions, as places where neighbors can congregate and form bonds with each other, functions that are especially important for those whose living spaces are quite cramped.
CCDC realized that it could solve both of these problems at once. Under the Feed + Fuel program, we partnered with San Francisco New Deal and the city's Human Services Agency to provide meal vouchers for use at neighborhood restaurants, to ensure that residents remained food secure despite not having consistent access to kitchens. San Francisco New Deal administered the program, distributing vouchers and payments to restaurants, and organizing food preparation and delivery, while CCDC spread awareness among residents and business owners of the unique opportunities provided by the program. Ultimately, the program provided 122,000 meal vouchers to around 2,000 households for use at 34 participating neighborhood restaurants. Restaurants were reimbursed for vouchers using funds we raised, and meals were packaged and delivered to SRO residents in Chinatown and nearby neighborhoods like Tenderloin and North Beach by a team of 180 volunteers.
The majority of households served lived in SRO units, but the program was also available to senior residents of the Pings public housing complex to address an increase in senior hunger during the pandemic. The program allowed us to meet both public health and food security goals, while also providing vital business to neighborhood restaurants that would have struggled to stay open if it had not been for the patronage enabled by this program.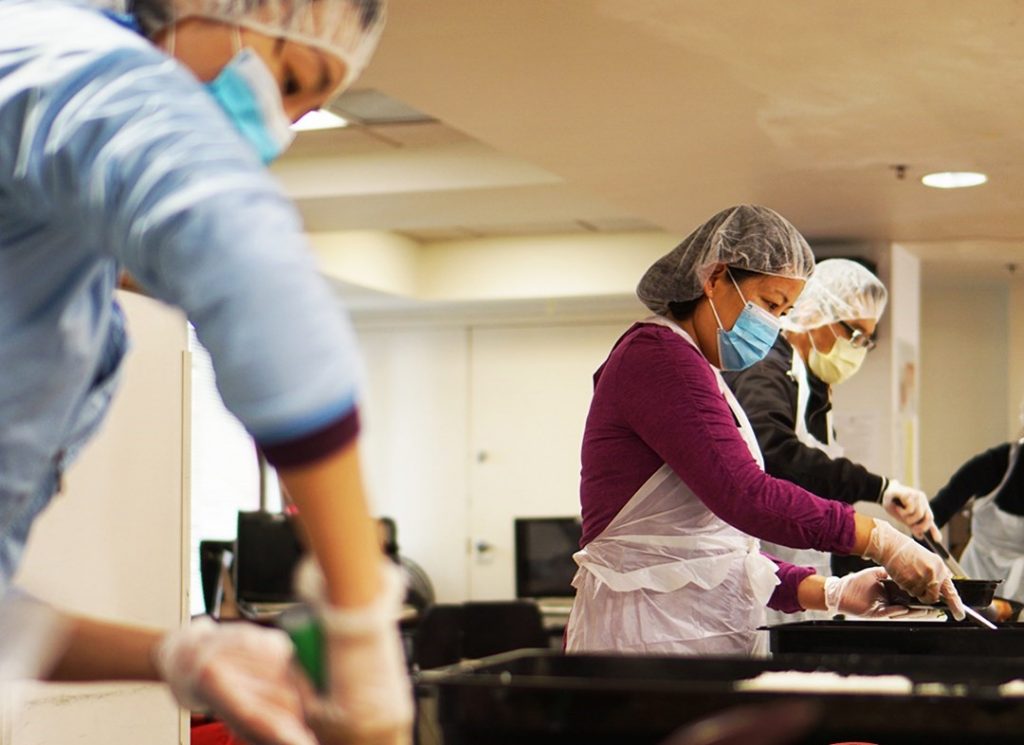 How long did the Feed + Fuel program serve residents?
After its initial rollout in the spring of last year, the program began to sunset at the beginning of the summer. There were several reasons for its winding down: COVID-19 numbers were declining steadily at that time, and so there was less concern about SRO kitchen use being a major source of community spread. Additionally, the arrival of warmer weather and relaxed public health restrictions had allowed a significant number of restaurants to reopen with outdoor dining facilities, which meant that a significant number of Chinatown residents were able to go back to work, providing them with both increased food security and taking some of the strain off SRO kitchens.
As winter set in, however, many of the same dynamics that had been worrisome in the spring began to manifest again. COVID-19 numbers citywide were on the rise, and, particularly distressingly, case counts in SROs were increasing quickly relative to the city rate. Outdoor dining was shut down, forcing many restaurants to shutter once again, and there was chatter that many of the neighborhood's most storied establishments were thinking of closing their doors permanently. This prompted CCDC and its partners to restart the Feed + Fuel program in January. This time, the program was both narrower in scope but larger in scale: Feed + Fuel 2.0 focused solely on SRO residents, since it had been determined that food insecurity among senior public housing residents was not especially concerning; and the program aimed to serve around 3,000 households with meals from any of the more than 50 restaurants that are still open in Chinatown. Since unemployment had decreased in and around the neighborhood, Feed + Fuel 2.0 was unable to take advantage of as large a corps of volunteers as the first iteration of the program, and so it ceased to offer meal delivery to residents. This limited the program's scope to the immediate area of Chinatown, but due to the neighborhood's extreme level of walkability, this was hardly an inconvenience for program participants.
In addition to crafting new programs to address the unprecedented challenges of the pandemic, how did CCDC adapt existing programs to fit social distance protocols?
One of our most visible efforts to build community is its Chinatown Alleyway Tours program, in which young Chinatown residents design their own neighborhood tours. Through the program, youths are able to highlight the landmarks and stories that are most meaningful to them and the community by designing their own tour routes and scripts. This exposes tourists who visit Chinatown to aspects of the neighborhood they might not have learned about on a more traditional tour, but also, and more importantly from our perspective, builds vital leadership skills and neighborhood pride among the young people who participate, ensuring that Chinatown continues to have a deep corps of advocates far into the future.
During COVID-19, however, these tours ceased to be viable as they had been given before, and so we began working with our young tour guides to find an alternative way to continue them. The alternative they came up with was to build a virtual model of Chinatown on the video game Minecraft, and use that as the platform on which tours were given, which we thought was brilliantly creative. Given that CCDC views the tour's most important function as being the process of young residents designing the tours and building a sense of ownership of the community, the fact that youth made such an effort to recreate their community virtually when people could no longer safely visit in person still achieved the desired outcome.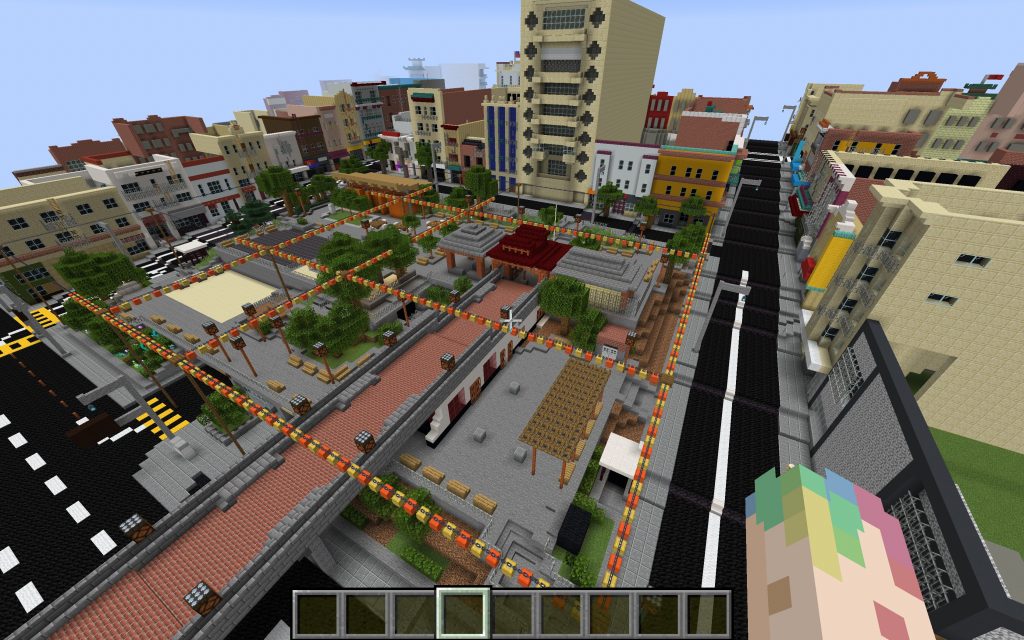 What other programs has CCDC implemented to serve residents during the pandemic?
Like many other organizations, we implemented a telephonic wellness check program for the residents of our properties, through which we found that, for senior residents in particular, social isolation was a serious challenge. As a result of the information collected during those wellness checks, we initiated a program to reduce social isolation by educating seniors on the use of online video platforms like Zoom. Because of this education program, we were able to virtually relaunch a monthly town hall event for seniors, which provided another vital venue for social interaction.
We have also done work around supporting families, especially those in SROs, with children to facilitate distance learning, and have partnered with a number of other community groups to push for the opening of COVID-19 testing sites in the neighborhood. Most recently, our focus has been on getting Chinatown residents vaccinated, for which we are partnering with a local hospital to get residents in line for shots via telephone, to avoid the paperwork that can be difficult to complete for those who speak little English.
What lessons has CCDC drawn from the pandemic?
Over the course of the pandemic, we realized that the most effective tool at our disposal is community organizing.
In the Feed + Fuel program, we relied on San Francisco New Deal on the administrative side, but our deep roots in the Chinatown community is what allowed the program take up to be as high as it has been, and ultimately what allowed the program to have the public health and nutritional success it has. CCDC's status as a pillar of the community meant that it served a vital role in familiarizing residents and businesses with the program and making them comfortable with it, despite the fact that it was being administered by another organization they weren't familiar with.
The same has been true of CCDC's work on other fronts during the pandemic, from the push to distribute supplies for distance learning to the effort to get Chinatown residents vaccinated.
It is vitally important for a community like Chinatown to have an organization with decades-long connections to its residents to serve as an intermediary and advocate to other institutions so that the community gets the resources it needs to succeed.
As we begin to emerge from the pandemic, how does CCDC envision the recovery process for Chinatown?
Going forward, we are focused on ensuring that Chinatown's community-serving businesses recover, while also making sure that those businesses and the residents that rely on them are not displaced. During the recovery from the previous economic crisis, too little attention was paid to which residents and businesses benefited from the rebounding economy, with the effect that many residents and important, community-serving businesses were shut out. As we emerge from the pandemic, we plan to concentrate much more intently on ensuring that the businesses that have served the community for over a century remain there, and that Chinatown remains accessible for its current residents and future generations of immigrants.