The COVID-19 pandemic has thrown countless households across the country into a crisis, with decades-high unemployment figures, unexpected health costs and the shuttering of local businesses. Renters are particularly vulnerable to the effects of this crisis, unable to fall back on the stability provided by homeownership. The ability to accrue equity over time and access forbearance and loss mitigation options are just a few of the larger benefits of homeownership that come together to form a financial safety net for homeowning households.
Helping minority and low-income households, who often face more obstacles to homeownership, become mortgage ready and purchase an affordable, quality home has been the goal of Home by Hand long before the onset of COVID-19. This New Orleans based nonprofit affordable housing developer has been helping individuals and families tap into the financial stability provided by homeownership – benefits that are clearly underscored in today's uncertain environment.
The National Housing Conference spoke to Home by Hand Executive Director Oji Alexander about how the organization and the people it serves have been affected by COVID-19 and why their affordable homeownership mission is as important as ever. The discussion has been edited and paraphrased for brevity.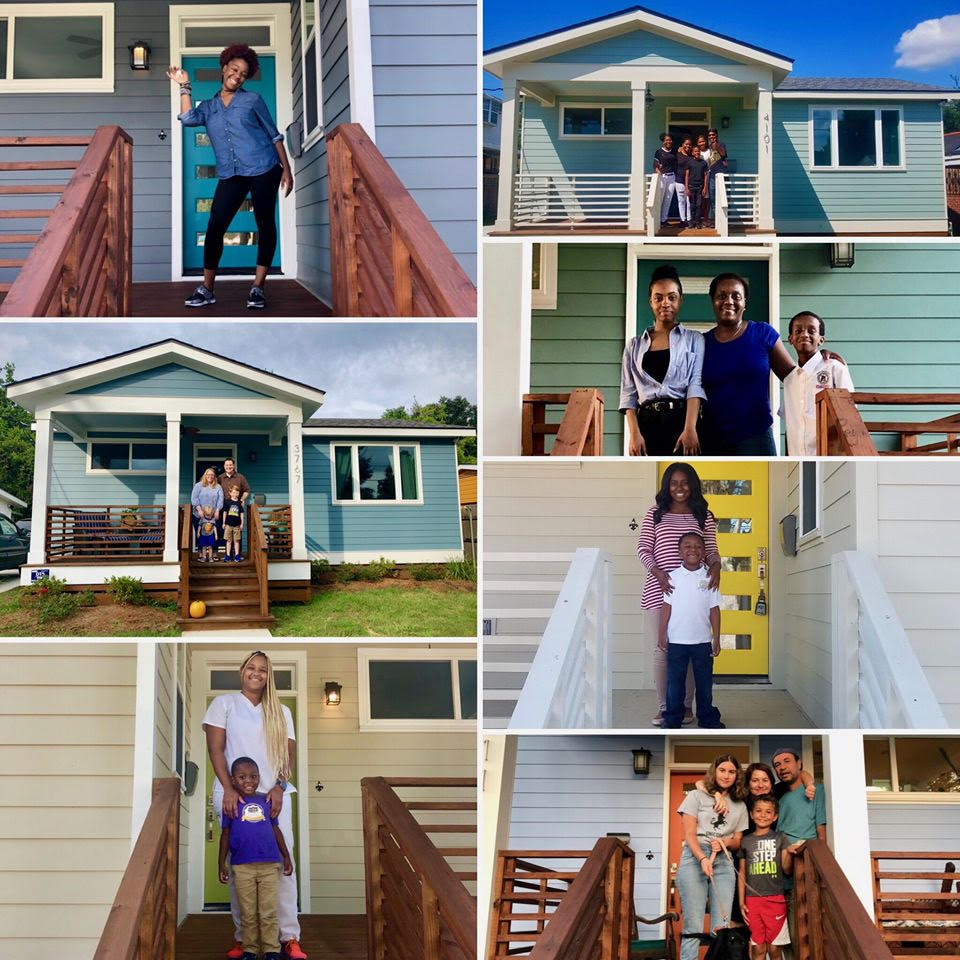 What is Home by Hand's mission?
Recognizing the powerful wealth generating effects of homeownership, we at Home by Hand strive to create affordable homeownership opportunities for low- and moderate-income New Orleanians. Whether through new construction or the redevelopment of vacant and abandoned homes, the organization plays an active role in building neighborhoods of opportunity throughout the New Orleans area.
Relying on a network of partnerships across lenders, contractors, architects, and state and local agencies, such as Crescent City Community Land Trust (CCCLT) and the New Orleans Redevelopment Authority (NORA), our program is designed to maximize development and lending opportunities for the construction and financing of affordable homes for families and individuals who may not otherwise have an opportunity to purchase a home. Every year, we build between 10 and 15 homes that are sold to eligible low- and moderate-income homebuyers.
How does that mission serve the community?
Particularly in the wake of an unprecedented global pandemic and civic unrest, our work to reduce racial inequality and slow the conversion of homeownership housing to rental housing plays an important role in stabilizing and revitalizing local communities.
A historic lack of reinvestment capital into low- and moderate-income neighborhoods has exacerbated racial inequalities in homeownership and household wealth over time. This lack of investment has created a favorable environment for large rental portfolios that purchase foreclosed homes and convert those homes into often poorly-maintained rental housing, undermining quality of life and contributing to declining property values. Home by Hand is working to combat this trend by investing in quality affordable homeownership housing across multiple neighborhoods in New Orleans.
We often work with households that already rent in the neighborhoods where we are developing homes; this advances our goal of keeping communities in place. By relying on a pre-sale homebuying model, we are able to serve a demographic that would otherwise be outcompeted in the housing market.
How does that mission serve local households?
Our program, which places 10 to 15 individuals and families into quality, affordable homes every year, demonstrates the value and often-overlooked affordability of homeownership, particularly in areas of the country like New Orleans. We consistently maintain a robust pipeline of over 100 applicants – a testament to the unwavering demand for affordable housing from households throughout the area.
Harvard University's Joint Center for Housing Studies reports that New Orleans renters find themselves just as cost-burdened as renters in notoriously expensive markets, like Los Angeles. The affordability of homeownership compared to the relatively high cost of renting in New Orleans adds to the long list of benefits traditionally associated with homeownership, which includes tax advantages, the accrual of home equity, stronger community ties, greater civic engagement, lower crime, improved academic performance and better health outcomes.
While the global pandemic has shaken the economy and healthcare system, the safety net provided by homeownership remains available to homeowners who may be able to tap into equity or lower their monthly mortgage costs through refinance. Homeowners also have the option to work with their mortgage servicer if they're unable to make their mortgage payments. This stands in contrast to renters unable to pay their rent, who have fewer remedies to reduce monthly expenses and are more likely to face eventual eviction.
| | |
| --- | --- |
| New Orleans Housing Affordability At-A-Glance | |
| Salary required to purchase a home at the median sales price with a 10% down payment in New Orleans in 2019 | $45,000 |
| Salary required to purchase a home at the median sales price with a 10% down payment in US in 2019 | $56,000 |
| Share of cost-burdened renters (paying more than 30% of income on rent) in New Orleans in 2018 | ~ 56% – 63% |
| Share of cost-burdened renters in US in 2018 | ~ 47% |
| Average share of cost-burdened homeowners in New Orleans from 2014 – 2018 | ~ 34% |
| Source: National Association of REALTORS®, Harvard's Joint Center for Housing Studies and HousingNOLA | |
How has COVID-19 impacted the organization's operations?
As far as physical operations, we were well-positioned to transition to working from home. From a strategic standpoint, however, our team had to pivot to new areas of need brought on by the pandemic.
We were able to stabilize our cash flow by applying for a Small Business Administration (SBA) Paycheck Protection Program (PPP) loan. The funding, quickly provided by a small local bank, was a life saver.
With residential construction identified as an essential service, we were able to stay largely on schedule with our construction projects. Conversely, we experienced major disruptions in the usual financing process.
How has COVID-19 changed how the organization works with prospective homebuyers?
Home by Hand uses a pre-sale side model of homebuying, coaching prospective homebuyers until they are mortgage ready and engaging in homeowner education. We help prospective homebuyers improve their credit scores and build their savings in advance of beginning the mortgage process.
Once program participants are mortgage ready, we work with a few specific lenders, predominantly smaller local banks, whose underwriting and lending criteria can accommodate our participants and unique financing model, which usually combines a Federal Housing Administration (FHA) insured mortgage, subsidies, and a forgivable third mortgage.
The pandemic, however, shifted our immediate focus to those individuals and families in the midst of the mortgage underwriting process, as well as to existing homeowners that we have worked with in the past.
At the onset of COVID-19, we had four homebuyers ready to close on four of our properties. All four buyers were impacted by the economic fallout of the pandemic and lost their jobs. Three of the borrowers eventually regained employment and were able to resume the mortgage process and purchase their home. One of the buyers, however, was disqualified because of the tightening in underwriting that resulted from changes in the larger economy.
As homebuyers moved to the contract signing stage, we were concerned about people's willingness to sign contracts remotely, but this did not pose an issue for any of the homebuyers.
How has COVID-19 changed how the organization works with existing homebuyers?
Home by Hand's homebuyer education model typically provides all of the post-sale information that homebuyers need before the purchase occurs. From maintenance recommendations, termite seminars and post-sale stewardship guidance, homebuyers that work with us are usually amply prepared for responsible homeownership.
COVID-19 has redirected more of our efforts to our recent homebuyers. We are creating new resources to educate homeowners on how to convert their wealth and equity into usable income and directing homeowners to other valuable outlets for helpful information and guidance. We have reached out to all of our recent homebuyers to see if they are still employed or have difficulty making payments and are working diligently to prevent any foreclosures.
Are there any lessons to be learned from COVID-19 and its impact on households?
Although so much has changed over the past few months, one thing has not: the need for affordable homeownership opportunities, in New Orleans and in communities across the country. COVID-19 has revealed that those households without wealth, in the form of home equity or financial savings, are far more at risk and lack a financial safety net.
Investing in constructing and rehabilitating quality homes, preparing households for homeownership, and connecting homebuyers to creative, but responsible, financing options can have a profoundly positive impact on the long-term financial stability and overall well-being of individuals and families and the communities they live in, ensuring they are able to weather this pandemic, as well as future crises.
As life slowly returns to normal, we at Home by Hand are continuing to advance our mission. We have 13 new energy-efficient, storm-resistant construction projects underway and are accepting applications for 10 new homes.