When Nuestra Comunidad and The Neighborhood Developers (TND), two Boston-area community developers, came together to found Opportunity Communities (OppCo) in 2018, they never would have expected that the organization would spend its third year in existence responding to a global pandemic. But they might have predicted that OppCo's success would be rooted in the mission they established at the nonprofit's founding: elevating local knowledge and equipping leaders to serve the communities in which they are rooted.
OppCo was formed as a partnership between two Boston-area community developers that wanted to take advantage of the benefits of scale while keeping operational control and assets within the neighborhoods they served. Accordingly, OppCo's efforts during the pandemic involved using its scale to empower local organizations to meet goals, from establishing hotlines to connect residents with services and performing wellness checks to using street art and music to foster community solidarity. OppCo's efforts provide a roadmap for channeling resources to communities that need them most while empowering local voices and maintaining uplifting community institutions.
The National Housing Conference spoke with OppCo CEO Ann Houston and TND Director of Resource Development Nancy Turner about the ways that OppCo's unique model gave its member organizations a step up in responding to the pandemic and how it has adapted existing initiatives during the current crisis.
OppCo isn't a typical affordable housing provider. How does the OppCo model work?
The OppCo model allows local community development organizations to enjoy the benefits of scale while keeping control and assets within the communities they serve. OppCo's members remain fully independent, with control over their own finances and programming, while taking advantage of OppCo's administrative and affordable housing services. While member organization staff are legally employed by us at OppCo, they remain in member offices working under the direction of local leaders and under the respective member organizations' name. This helps retain talent by providing deeper career ladders and the ability to weather periods of fluctuating funding. This model lets member organizations avoid the pitfalls that often accompany scale – decreased community accountability, increased distance between community developers and local leaders – but still benefit from the advantages offered by a larger operation like OppCo's.
Practically speaking, the model meant that we were uniquely positioned to support our members when the pandemic hit. The unprecedented challenges posed by the pandemic required the creation of totally new programs, platforms and methods of outreach. At the start of the pandemic, many nonprofits found it challenging to balance serving communities in the moment while building out the sort of capacity that would be so important over the medium-term future. Nonprofits were facing financial pressures as the economic effects of the pandemic caused them to experience a decrease in funding resources at the same time that the communities they served were experiencing an increase in need. Our model allowed members to remain focused on the needs of their communities while we dealt with quickly building program capacities and administrative matters.
How did the pandemic affect OppCo's properties and the communities it serves?
OppCo's partners own residential properties in communities that while predominantly low- and moderate-income, are full of community pride, grit and can-do spirit. These communities also tend to have some of the region's most overcrowded housing, as high cost burdens force families to double- or even triple-up in one unit, or to rent unsafe spaces in unfinished basements or attics. Early on in the pandemic, it was neighborhoods like these where the virus was able to spread most easily, and which became the country's first COVID-19 hotspots. Quite quickly, however, OppCo and its partners noticed that infection rates in our properties were significantly lower than those in surrounding communities.
In Chelsea, a small, majority Hispanic city directly north of Boston that is TND's base of operations, 10% of residents live in units with more than one person per room, the highest share of any Massachusetts municipality. Early on in the pandemic, Chelsea also led the state in COVID-19 cases, due both to overcrowding and the high number of essential workers who were less able to work from home and to socially distance compared to members of wealthier communities. But TND properties experienced far fewer infections than one would expect by looking at the broader community. According to TND Executive Director Rafael Mares, "If our Chelsea tenants were falling ill at the same rate [as the city's residents], we should have seen close to 100 cases within TND properties." Six weeks into the pandemic, TND had seen only 14 cases, and infection rates in their buildings have remained three to four times lower than those of the surrounding community.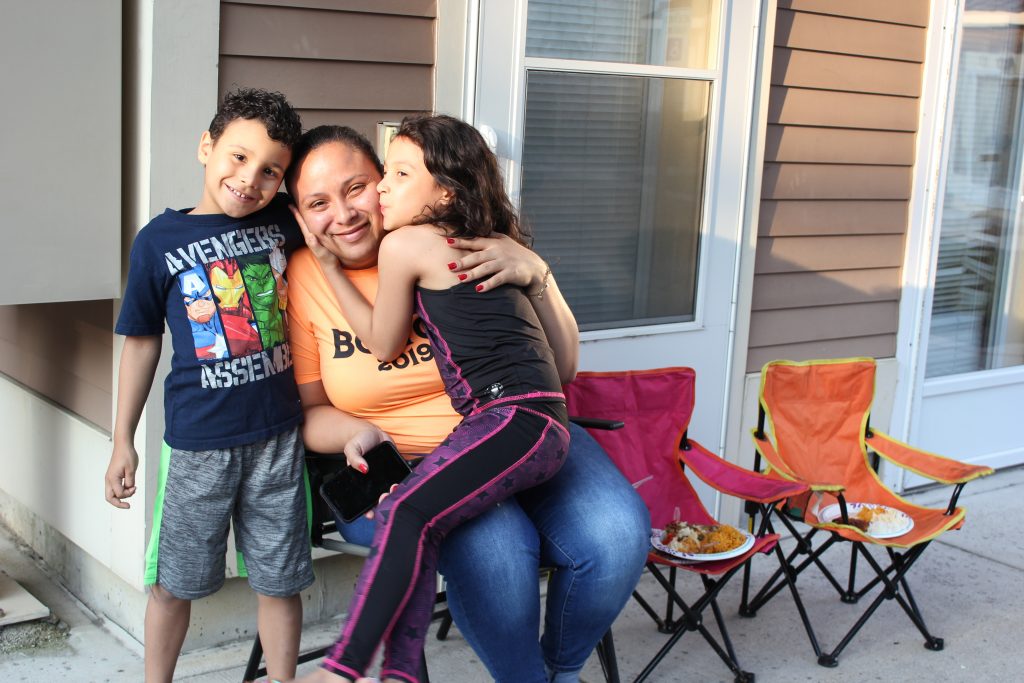 For OppCo and our partners, it is quite clear that the reason behind those numbers is the fact that safe, stable, affordable housing is one of the most important social determinants of health. During the COVID-19 pandemic, those burdened by high housing costs have been far less able to practice social distancing, since that often means staying home from jobs as frontline workers in homes that are often uncomfortably crowded. But when people have access to housing that is affordable to them, they are far more able to make informed choices about when to stay home.
How did OppCo take initiative to stay connected to its communities and ensure their needs were being met after quarantine was declared?
Our mission to serve its communities does not stop at the doorstep of its residential properties. At the start of the pandemic, one of our top priorities was finding ways to help our members' communities build resilience to the virus. Our flagship effort in this space was our work on the CONNECT Hotline, a combined traditional hotline-and-outreach tool. The hotline enabled community members to seek assistance applying for public benefits when face-to-face interaction was riskiest, while also remaining accessible to the many low-income residents who lack access to the sort of technology that would allow them to seek resources and information online.
TND decided early-on to be aggressive about establishing the hotline and worry about ironing out the kinks later. To staff the hotline, a team of more than 25 volunteers was recruited, a large number of whom were fluent in Spanish and Arabic, the two languages most commonly spoken by CONNECT callers other than English. Volunteers also worked with our data team to build out a secure online platform that enabled callers to use their phones to upload pictures of financial documents, which made it easier to assist callers in determining their eligibility for programs and apply for them.
In addition to connecting residents with federal and state resources, we made sure to stay informed of community-based resources in callers' neighborhoods to which Hotline volunteers could refer callers when other resources proved insufficient. In Chelsea, for example, the city government and several civic organizations set up a citywide Eviction Taskforce, a roundtable of community advocates that would help prevent eviction and homelessness in real time. Volunteers regularly referred Chelsea callers to this taskforce, typically when other sources of aid would be too slow to meet the needs of the callers in question.
In one case, the hotline received a call from a Chelsea community member whose family was facing imminent eviction and whose past due rent would not be covered by state rent assistance. CONNECT referred his case to the local Eviction Taskforce, where representatives from the city government determined that his family was eligible for an available subsidized apartment unit. One nonprofit helped the family with the paperwork, and another provided emergency cash to cover relocation costs. If the family needs furniture, they can reach out to CONNECT again, which can provide financial support for this purpose.
What were the results of the CONNECT Hotline?
The results of TND's initiative speak for themselves. As of February 2021, the hotline has leveraged over $3.4 million in public benefits for almost 2,000 households, and every dollar spent on the program leverages $10 in benefits for callers. The program has leveraged over $2.3 million in rent assistance alone, a number that represents almost 90% of the total amount of rent assistance funding distributed across Chelsea and Revere, a city adjacent to Chelsea of similar size and demographic makeup. At the end of 2020, the two cities ranked second and third among municipalities in Greater Boston in state rent assistance dollars distributed – coming in after only Boston itself, and beating out far larger cities like Cambridge and Quincy – demonstrating CONNECT's strength in efficiently connecting residents with resources.
What logistical challenges did the CONNECT Hotline face?
One major challenge was simply the volume of calls CONNECT had to process. The need for assistance accessing services, especially at the beginning of the pandemic, was truly astronomical, and the hotline regularly approached 50 calls in a day, and sometimes had more than 100. TND and OppCo simply didn't have the capacity in the beginning to work through them all, either with staff or with volunteers. That bottleneck, as well as the unfortunately high burden the state of Massachusetts placed on renters applying for assistance, meant that callers often had to leave messages describing their situations and wait to receive a call back. TND and OppCo were able to cut down on wait times by streamlining systems, recruiting more personnel, and by taking advantage of Massachusetts' simplification of the application for rent assistance, which for several months was quite burdensome.
How did OppCo and TND provide for the emotional needs exposed by the hotline?
TND often found that many callers were so overwhelmed by their circumstances that it was difficult to give the practical assistance they were asking for. The pandemic had a very clear psychological impact, and it was not uncommon to find that TND's volunteers' work involved giving callers emotional support just as much as help finding resources.
Another challenge was the emotional toll that working the hotline took on OppCo's volunteers. Volunteers spent their shifts hearing from many distressed people in desperate circumstances, and it was often hard for them to acknowledge that the work they were doing was challenging – all the more so because they were acutely aware that the burden they bore was nothing compared to that of the callers they were hearing from. To address this need, OppCo organized listening sessions several times for volunteers to affirm that their work was emotionally taxing.
How did OppCo support its partner organizations in their efforts to stay connected to their communities?
In addition to the CONNECT Hotline, we contributed to another phone-based project, this one to perform wellness checks on residents in OppCo-supported residential properties. We wanted to find ways to connect residents with groceries and services they were eligible for as quickly as possible. However, given that the tenant population is especially affected by the digital divide – 20% of households lack internet service – we made a similar calculation to the one that led TND to set up a phone hotline to connect community members with services, and decided that the best way to reach residents was to call them.
Our goal was to reach out to each households directly to check in and provide updates on health and safety policies and food distribution. We started out by calling each of our households on a biweekly basis, but quickly realized that we lacked the staffing capacity to maintain that level of outreach. With the help of our data team, we quickly pivoted to making automated calls to residents with health, safety and service information. We continued making in-person calls to senior residents, however, given their increased vulnerability to the health, economic and social effects of the pandemic.
How did OppCo foster community in the neighborhoods it serves during the pandemic?
During the early portions of the pandemic, we and our partners were primarily concerned with ensuring that the material needs of our residents and communities were being met. However, as we got better at meeting those most basic needs, we realized that the realities of life during a pandemic – undoubtedly one of the most collectively isolating periods in recent history – were taking a social toll as well. This realization led us to broaden our focus from programs like CONNECT to those that facilitated intra-community solidarity.
One example of this sort of solidarity work took place in partnership with OppCo member Nuestra Comunidad, a community developer in several of Boston's historically Black neighborhoods. Nuestra Comunidad recognized that the impact of the pandemic combined with the traumas that lead to the Black Lives Matter protests over the summer generated a unique need in their communities for projects that celebrated Black life and culture. In that spirit, they held a series of public, socially-distanced events using art to build and maintain community. Events included jazz concerts, drive-in movie nights, and the unveiling of a mural celebrating social justice at a Nuestra construction site at Bartlett Station near Nubian Square, which is in the heart of Boston's Black community. Over 8,000 people attended the arts series events, including 5,000 in person and 3,000 online. The series generated $58,000 in commission and other revenue opportunities to artists and vendors.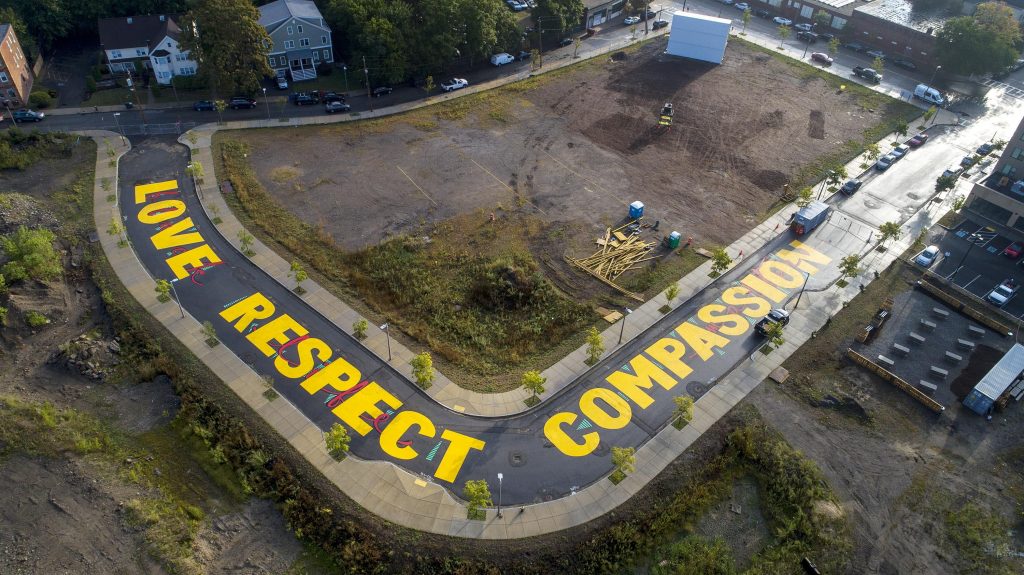 Nuestra received two kinds of feedback on the 2020 arts series. The participating vendors and artists reported approval and interest from customers and attendees in coming back for more events. Second, a community advisory committee enthusiastically recommended holding a 2021 arts series to build on the success of 2020. They recommended Nuestra incorporate a steel container arts studio in development by a local artist, Radiant Jasmin. Nuestra adopted this recommendation and is planning a 2021 arts program focused on mural installations, music performance, a food/beer garden venue, and the steel container studio.
What has OppCo done to promote racial equity during the pandemic?
The racial skew of the COVID-19 pandemic is by now common knowledge, but it is important not to forget that it is just one more item on a long list of disasters that have disproportionately affected people of color, and that in no cases was this racial skew accidental. Time and time again, the needs of communities of color have been ignored, which has left members of these communities disproportionately vulnerable to the harms of pandemics, natural disasters, economic downturns, and myriad other catastrophes whose burdens fall along racial lines. This is especially the case in the Boston area. In 2015, the Boston Federal Reserve found that while White households in Greater Boston have a net worth of $247,500 on average, the typical Black household had a net worth of just $8. The study links the difference to intergenerational wealth transfers, largely based on homeownership. The same study found wealth disparities between White and Hispanic households that were nearly as large.
We at OppCo recognizes that the history of racial discrimination in the United States is so pernicious that racially-specific remedies are appropriate to correct for historical and present-day harms inflicted on people of color. This recognition, combined with the fact that homeownership is the most important method for household wealth creation in the United States was the inspiration for the Homes for Equity program, which aims to develop a sustainable program that is focused on households of color harmed by systemic housing discrimination, designed to build wealth through homeownership and reduce the racial homeownership gap. The program was conceived as a collaboration between OppCo and the Massachusetts Affordable Housing Alliance, which aims to create a scalable model for homeownership and wealth creation for households of color. A crucial aspect of the project is the documentation of the history of housing discrimination in Boston – the history that made the remedy necessary in the first place – for the purpose of building widespread public support for redress via homeownership. The project is currently in its pilot phase, for which we will leverage 40 homes in development through its partnership with Nuestra Comunidad.
What lessons has OppCo drawn from your experience during the pandemic?
One lesson has simply been that healthy, stable and affordable housing is its own sort of vaccine against the risks posed by public health crises. Residents in the properties we service remained healthier and more economically secure than their neighbors in market-rate housing. For us and our partners, those results only reaffirm the importance of dedicated affordable housing to keep communities safe and vibrant.
Another lesson is that building a sense of community identity and connections can play an important role in community and family resilience. While building community connections requires time and attention, the investment pays off during crises. Our administrative and technical supports allowed TND and Nuestra Comunidad to focus on community well-being, confident that their organizational needs were well-managed. Nuestra's cultural work provided a voice within a community at the heart of Boston's racial reckoning. TND's virtual community gatherings linked community residents and civic leaders in one of the nation's hardest-hit communities.
The confluence of events and issues that dominated our country in 2020 called for both immediate response and a longer-term look at more systemic solutions. The marrying of locally controlled, community-based insight with more scaled supports has provided OppCo and our members with essential tools. For example, due to its partnership with OppCo, TND was able to quickly identify emerging needs for access to public benefits in Chelsea and Revere and respond with the CONNECT hotline, leveraging resources and support available. The partnership has similarly facilitated the Homes for Equity pilot that utilizes under-recognized duty in the Fair Housing Act to remediate the harms of housing discrimination to meet a local goal of wealth building for Black households. Organizations with OppCo's scale typically work at the metropolitan or state level and are vulnerable to missing the granular local knowledge essential to meeting the emerging needs of residents. Organizations at the local scale of TND and Nuestra, meanwhile, are not usually able to leverage the sorts of administrative resources required to manage the work. The joint-venture model allowed each of OppCo's entities to play to their strengths while relying on their partners for those areas where they would have otherwise fallen short.